The IRS announced the new limits for Health Savings Accounts (HSAs) are going up $50 for individual coverage and $100 for family coverage, bringing them to $3,650 and $7,300, respectively. The catch-up contribution limit for those over age 55 will remain $1,000.
Each of these updates are set forth below: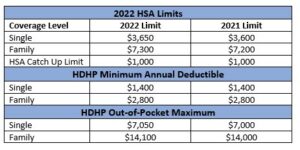 IRS also announced the Expected Benefit HRAs (EBHRA) will continue to have a limit of $1,800 for play years beginning 2022.
Should you have any questions, please contact an FBA Administrator during our operating hours, Monday through Friday 8:30 am – 5:00 pm EST, at (800) 437-3539.