Community Outreach
We believe in the communities we serve. In fact, service goes to the very core of why we do what we do. At FBA, we understand the importance of giving back, and how that service strengthens the relationships between employees, employers, neighbors in need, and non-profit organizations in our communities.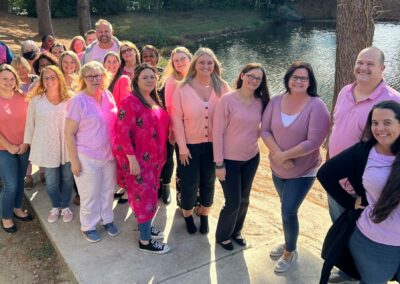 Breast Cancer Awareness Month
Today, members of our office supported Breast Cancer Awareness Month by wearing pink. In addition, FBA is donating to the National Breast Cancer Foundation, an organization that helps provide support to women affected by breast cancer and research towards finding a cure. Did you know that 1 in 8 women will be diagnosed with breast cancer in her lifetime? While you can't usually prevent cancer, it is crucial to be proactive about your health and know the early signs and symptoms. When breast cancer is detected early, the 5-year survival rate is 99%. Early detection includes doing monthly self-screenings and scheduling regular exams and mammograms.